We have a little Darla on our hands. No she didn't kill the fish...but feeder goldfish do what they do best. Live a day and die. Last night at the Carnival Haley
HAD
to play the Finding Nemo Game(nicely named by Kyle) So they set up a little table and had bowls, and you know how the rest of it goes. Well on her 3rd try the ping pong ball went into the colored water. Ding ding ding. We have a winner. So Haley got her first very own fish. She called him "Neno". She even tried pinching the poor fellow inside the bag. He survived that though. I got him inside and in some water and gave him some dried meal worms left over from my Beta fish I had..um. 5-6 years ago maybe? (yikes, maybe that killed him) This morning I put Neno inside the old bowl, freshly cleaned, complete with pretty black and clear stones. Haley pointed at him for awhile this morning and yelled his name, but he didn't look so good. Spent alot of time towards the bottom of the bowl. Sadly, this afternoon, the poor fish was dead. So now what? Do I get her another? She hasn't even asked about him since she woke up from nap. I think I will just tell her Neno had to go home. Maybe someday we will get her another Neno.
Here are a few pictures from last night,
Haley doing the cupcake walk. Her friend Rachel is in front of her in the woodland fairy costume.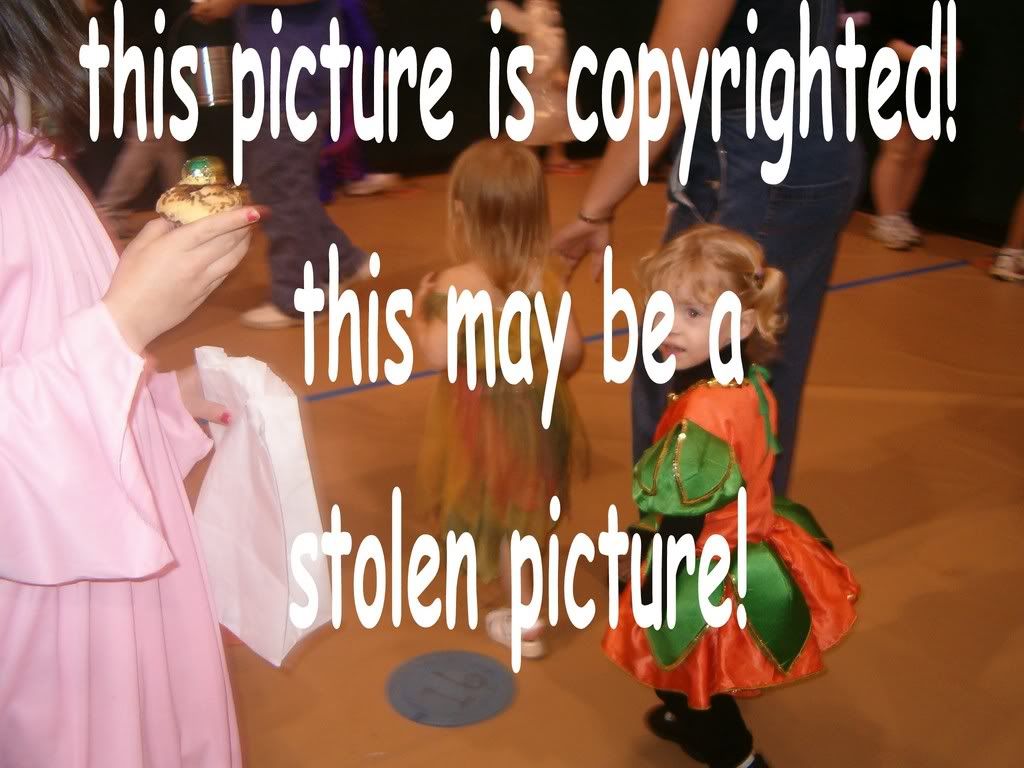 Notice handcuffs? Haley took daddy to jail for breaking the law on halloween costumes. Do you see what he is wearing?? :)
Kyle in the pie throwing game. He is the flower on top. Makes a cute flower huh?
Even better covered in pudding and whipcream! Mommy made sure Haley got Daddy real good :)
Easton in his football jersey since his costume didn't come in time.